Eoghan McTigue
Aerial Plane
23 January – 6 March, 2010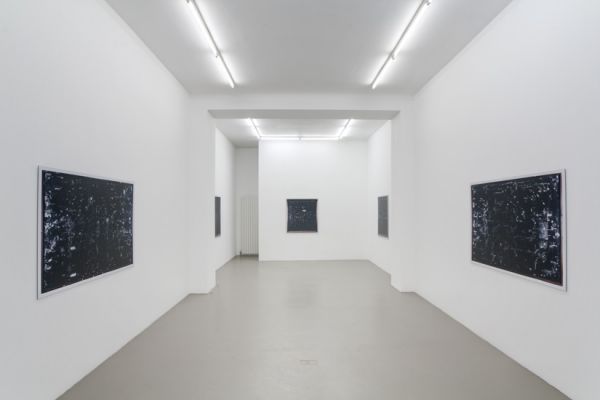 "Aerial Plane" is the third solo exhibition by the Irish artist Eoghan McTigue in the KUTTNER SIEBERT Galerie. The exhibition comprises a series of large format photographs of information display boards in which obvious traces of previous use are still visible on their dark surfaces. In line with his exhibition "The Image Screen", in which Eoghan McTigue presented photographs of vinyl or painted screens applied to windows to obscure aspects of an interior, here he continues his focus on background surfaces that normally go unnoticed.

The boards have been stripped bare by the artist and worked on in an attempt to erase all traces of their previous function. However the more intensely the boards are worked on the more disturbed the surface appears. Scratches reflect light and bits of transparent sellotape and residual glue combine to give the panels a fractured and distressed appearance.

The choice of the 4 x 5 inch and the 8 x 10 inch format color negative corresponds with an industrial standard used by photographers to provide accurate color reproductions of paintings. Even though the works are obviously photographic reproductions they also possess a strange and otherwordly quality, like dark monochromatic paintings. The process poses questions about the value system and autonomy of works of art, the relationship between form and content, as well as the interplay between the work and the viewer.

The work of Eoghan McTigue is characterised by an extremly rigorous approach. His work consistantly addresses the questions that emerge from the interplay of pictorial and contextual elements. Beyond the foregrounded surface of the photographs a social, communicative and temporal structure is made visible.