Sven-Ole Frahm, Torben Giehler, Joachim Grommek, Terry Haggerty
If You Fake The Plane, Your Nose Will Grow
22 September – 31 October, 2009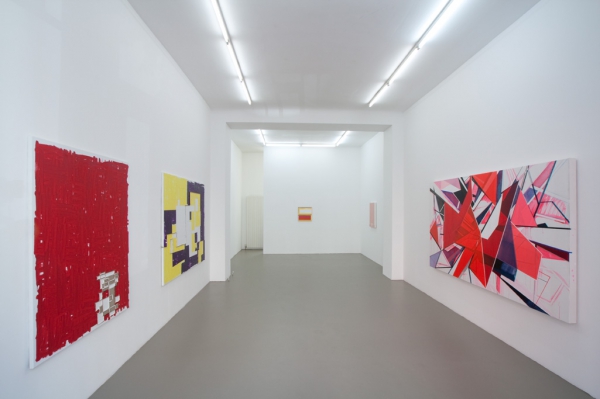 The group exhibition If You Fake the Plane Your Nose Will Grow at KUTTNER SIEBERT Galerie combines the work of four artists who all share an interest in composing the plane through the use of shape and color. The exhibition shows that the decidedly formal approach of the artist in the appearance of their work does not exclude an aesthetic take on conceptually oriented art.

Joachim Grommek remains on the plane: colorful, usually strictly geometric elements are placed in a charged relation to one another. The impression of spatial depth is at best evoked by the layering of color surfaces one on top of the other. In addition, there is the illustionistic representation of material, like that of the adhesive tape and the seemingly natural foundation. The disturbance is not caused only by the ostensible deception, but continues in the pictorial idea of concrete painting, which once appeared to reduce the painting moment solely to shape, surface, and color beyond all techniques of natural mimesis.

In his paintings, Torben Giehler opens unreal spaces by composing and contrasting colorful surfaces. Giehler refuses to construct his paintings in perspective, only using shapes to allow the allusion of depth to emerge, whose pull the beholder cannot refuse. It remains caught in the framework of immediate viewing, considering that the construction is under-defined and scarcely classifiable, and thus refuses a more precise description.

The process of pictorial invention in Sven-Ole Frahm is equally uncontrolled and preconceived. In the first stage of working, he applies paint to canvases, to then in a second step combine them using a cut and paste technique following a pattern entirely divorced from the original. In so doing, the work of Sven-Ole Frahm lives from the dichotomy of gestural and constructive painting, which, despite their strict separation, he is able to unite.

The encounter with the plane in the work of the English artist Terry Haggerty begins with the perfect, flat surface that is more reminiscent of industrial production than an individual hand of an artist. Parallel lines cross the surface and follow the curves, occasionally generating the impression of plasticity. These works offer the beholder various, changing possibilities of perception, even granting an object quality to these flat, abstract-seeming paintings.