Karin Hueber
in Falten ziehen
1 May – 20 June, 2009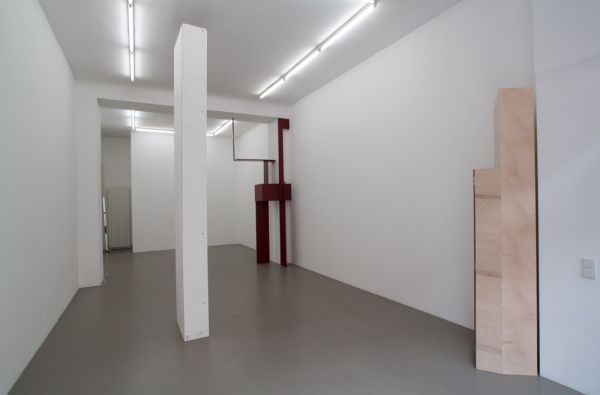 An engagement with the exhibition site is the starting point for Karin Hueber's artistic work. The space with its special characteristics is not just defined by its dimensions, but also by its qualities and their impact on the visitor. In part, Karin Hueber refers in her work to the artistic avant-garde from the early twentieth century, from which artists like Katarzyna Kobro and later Lygia Clark also developed their work. According to their conception, regardless of differences in terms of artistic qualities, a sculpture is no longer a formation closed in hermeneutic and intentional purpose, but a formation of space in relation to the body. With the consistency that is also true of the work of Karin Hueber, this means a shift in the relationship that defines the autonomy of an artwork: the artistic intervention sees itself as a physically and psychologically focused experience in built surroundings. Karin Hueber looks for qualities that are inscribed in a space, for example, providing indications of its history, and expands and transforms them into sculptures and installations that allow the beholder to question their location.
The exhibition "in Falten ziehen (Draw into Folds)" foregrounds architectural characteristics of the gallery that structure the space and have a decisive influence on the visitor's movement and perception. These points are not dominant at first glance, but create important links, rhythmify our gaze, and influence the beholder in his or her perception of the space and the works shown in it. Hueber's works rest against columns, meander from them through trusses and walls into the space. Small parasites that dock and nest in the space. In addition, a column is placed in the space, constructed from reused wooden boards. In static terms, it has no purpose, and is doubled in its absurdity by a mirror object in a corner of the room.
The objects in the installation reflect the architectural peculiarities of the space, and are borne by an idea that the artist found in George Perec's "A Man Asleep". More precisely, it is the overall mood that runs through the novella, the story of a man who decides one morning to undertake an experiment for no reason at all: to withdraw without any contact to the outside world into his apartment for a limited period of time. He is reduced entirely to focusing on himself and his immediate surroundings, and in so doing madness and perspicacity, time and absurdity become central aspects.
The concentrated perception of the protagonist on his surroundings has a formal analogy, far from a pictorial language, in the design of the individual objects of Karin Hueber. They are the uncontrolled moments of an intense observation and sudden change of direction in terms of perception that take shape.
The exhibition "in Falten ziehen" is Karin Hueber's first solo show at KUTTNER SIEBERT Galerie. Until early August, her work can be seen on the rear wall at "The Inside Out Exhibition", Kunsthalle Basel.