Stefan Sehler
I Was There
10 September – 22 October, 2011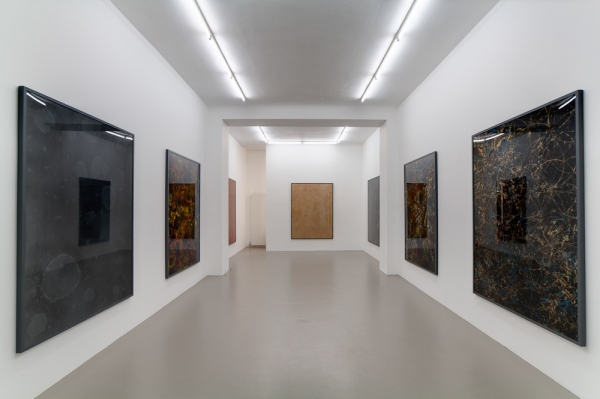 I Was There is the title of Stefan Sehler's fourth exhibition at KUTTNER SIEBERT Galerie. The paintings shown here are the start of a new series of abstract works. While his depictions of nature have always been abstract, they previously maintained a balance between concrete representation and abstract painting. With a clear shift in accent, the painterly process now takes on greater importance, removing the motif from the calculated transgression into the realm of photography and gaining in terms of autonomy.

His signature remains unmistakable: the painted back side of a plane of acrylic glass with a brilliant surface that intensifies the appearance of color. The motifs are usually abstract, and even concrete models often dissolve in the painterly process to the point of becoming unrecognizable. What remains visible is the painterly process as such, and displaying the traces of this process is also a subject of his work.

The significance of the motif for Stefan Sehler follows less thematic than formal principles; this is revealed by the quite disparate appearance of the individual works, at least as long as our attention is focused on uncovering significant links. Examining a larger series of works, in contrast, reveals the painter's interest in formal structures: the abrupt shift between microscopic and macroscopic views and the balancing of opposites. Everything painted attests equally to an everyday quality and its opposite, with a high level of complexity. This ambiguity is declared a guiding principle here: what is supposed to be an image of a lunar landscape can at the same time be seen not so much as an image that depicts something, but rather as a blotch of paint.

In several ways, Stefan Sehler demonstrates that our visual perception goes far beyond the mere intake of information. For all seeing is at the same time an act of cognition. We seek out relevant information in all the visual confusion and are permanently comparing what we see with what we remember, making what we see a derivative of already familiar images. It is only this continuous comparison that allows us a sense of security in our lifeworld. This process of comparison naturally applies to art as well, not so much to art's representations as to the forms it takes, discovering the supposedly familiar in the plurality of things and in the thicket of appearances and being able to make evident statements about abstraction as well.